Help Our Therapy Horses Help More People
Equido Charity SCIO was created with the following in mind:-
We endeavor to provide world wide leading innovative horse care, welfare and education.  Our ethos can be applied to all equestrian disciplines ensuring a more humane approach to horse care and training for the 21st Century.
 –      We aim to improve the welfare of all equines through education and enlightenment.
–      We aim to change the way people think about horses and of course other people.
–      We aim to provide up to date innovative training.
–      We aim to ensure that the employment pool is well provided with highly trained quality individuals.
–      We aim to provide high quality education and qualifications incorporating our unique ethos.
–      We aim to set new industry standards for the equestrian industry.
–      We aim to provide e a top quality service.
–      Our objective is to create a learning experience for all horse owners of all levels to facilitate a stronger bond and partnership with their horse.
–      Our objective is to refine our foundation on an ongoing basis to stay ahead of current practises.
–      Our objective is to leave a legacy for the equine industry and build a system of continual development through knowledge and education.
In order to fulfill its purpose the organisation shall:
Raise and distribute funds primarily for charitable or non-profit purposes and requiring the organisation to apply its income primarily;
Refrain from distributing any part of the dividends generated to members or shareholders; and will ensure that all proceeds are for the sole purpose of philanthropy.

Promote and encourage the understanding and welfare of equines in the recreational sphere as well as the competition arena through education, teaching and information and guidance.

Work with groups who are socially excluded thus building social inclusion.

Provide training and nationally recognised qualifications to injured military personnel both serving and recently discharged.

Provide a scholarship opportunity for individuals to complete their equine training in the Equido system thus progressing into full time opportunities.
Equido Charity SCIO has a been working on developing their therapy courses run over 1 – 5 days (depending on course) with huge success and fabulous feed back.  We use rescued horses to help deliver the training and this is very rewarding for everyone involved.
O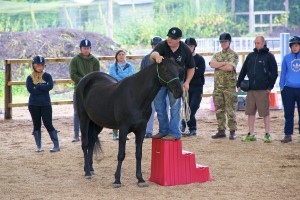 ne of our long standing Therapy horses is Raven who really enjoys working with people and helping re-build their confidence.
We are currently wish to develop our courses further and to this end we have started a Just Giving page and will be setting up a Go Fund Me project to help raise money to build pods.  This will enable our course participants to stay overnight on the longer courses as a retreat of sorts.  Details of the fund raising can be found by clicking on the link below.  Any donation is most welcome and will go towards providing accommodation.
Our courses include:-
Positive Empowerment – Aimed at individuals who want to make changes to their personal life.
Positive Leadership for Life – A truly unique personal and team building course for individuals facing challenges in their lives.  Ideal for our military personnel who are suffering from PTSD or physical injuries.
Personal Positive Leadership – Aimed at those who are looking to build on their confidence or need to make a decision on their career path or personal life.
Introduction to Positive Leadership – Aimed at individuals looking for a fresh perspective on what they want from their lives and will prepare them for challenges ahead.
Positive Leadership for Educators – Aimed at teachers, lecturers and trainers who want to receive honest feedback on how they are viewed by their learners.
.Positive Leadership for Change – In-depth program for those who are facing major changes in their lives both emotionally and physically.
If you are a member of a group who might benefit from our courses then perhaps you would like to contact us direct to book an event.