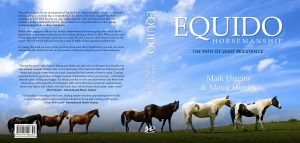 Equido Book Now Available On Amazon!
For Signed copies of Equido please order via the link below:-
Please note that postage costs for Europe and USA may be high.
Click here to order your signed copy of the Equido book.
The only government recognised
qualification in natural horsemanship

Equido is a detailed and comprehensive training methodology and system designed and developed by Ross Dhu Equestrian. This system gives the student the unique chance to qualify in an alternative training system based on Natural Horsemanship philosophy.
Equido is open to all students irrespective of their learning capeablilities or physical challenges.  We endevour to cater for any special learning requirements and our courses can be customised to the students needs.  For Example you can qualfiy under the following categories:-
Equido Academic – Theory based only with little or no practical handling skills required (ideal for physically impared students).
Equido Groundwork Instructor – Full qualification for non-riding students ideal for those students who do not wish to be advanced riders.
Equido Full Instructor – Full qualification including ridden requirements to an advanced level for chosen discipline.

We also understand that flexibility is required when it comes to offering study times for students, to this end we at Equido are available to you the student seven days a week from 9.00am – 5.00pm and we can also arrange evening training  from 6.00pm – 9.00pm at a date and time that suits you.
EQUIDO STUDENT WINS LANTRA'S LEARNER OF THE YEAR AWARD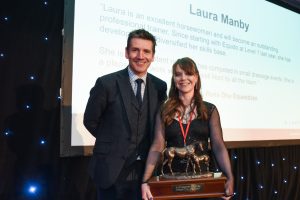 Laura Manby, a 25-year-old trainee from Carluke in Lanarkshire, has won the Equine category at Lantra Scotland's annual Land-based and Aquaculture Learner of the Year Awards, which took place at Doubletree by Hilton Dunblane Hydro last night (Wednesday 28th March). The runner-up spot went to 20-year-old Heather Moir from Blair Drummond near Stirling.
Laura has been doing the Equido Level 3 Instructor course, while working for Ross Dhu Equestrian Ltd. Since starting the programme last year, she has developed and diversified her skill base to include everything from horse care, anatomy and physiology, to psychology and emergency veterinarian treatment. She has also competed in a number of dressage events. Her Equido Level 3 will expand her knowledge to include supervisory skills and junior staff handling.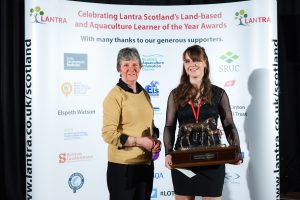 Laura said: "I am so happy to win the Equine award, what a great honour! I'd like to personally thank my wonderful employers at Ross Dhu Equestrian Ltd, who took me on despite the fact I had no formal qualifications. They have supported me every step of the way and inspired me to keep going when times were tough. It goes to show what you can achieve with hard work, determination and good people around you. I hope this inspires other people to take a chance like I did."
The 2018 Learner of the Year Awards were organised by Lantra Scotland, the sector skills council for the land-based, aquaculture and environmental conservation industries, and saw more than 200 guests, including finalists and their families, event supporters, employers, training providers and industry leaders, take part in Lantra's largest awards' ceremony yet.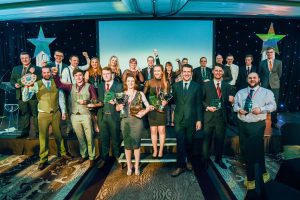 Emma Staniforth, a previous overall learner of the year winner, spoke about her experiences as one of Lantra's industry champions. The keynote speech was given by Dougie Vipond, TV presenter of sports and outdoors programmes and Deacon Blue founder member and drummer. Dougie then presented prizes for the Higher Education Learner of the Year, the Secondary Schools Award, CARAS winners, Jean's Jam Award and the Tam Tod Trophy.
This was followed by winners and runners-up awards for agriculture, aquaculture, equine, horticulture, game and wildlife, land-based engineering, trees and timber, fisheries management and environmental conservation categories.
The evening ended with awards for Modern Apprentice of the Year, for the Overall Runner-up and finally for the Land-based and Aquaculture Learner Year Overall Winner.
According to Kevin Patrick, Director of Lantra Scotland, the awards play a vital role in celebrating the achievements of trainees within Scotland's rural sector, as well as encouraging employers to invest in the next generation of talent.
He continued: "Our awards highlight the incredible people, the great work they do and the career opportunities within Scotland's land-based, aquaculture and environmental conservation industries.
"We are also very grateful to have the support of a range of people and organisations who make holding an event like this possible, including Skills Development Scotland, Aberdeenshire Council, ABP Food Group, BAGMA, Countryside Learning Scotland, Easterton Stables, Elspeth Watson, George Linton Memorial Trust, National Farmers Union Scotland, Royal Highland & Agricultural Society of Scotland, Scottish Aquaculture Innovation Centre, Scottish Forest and Timber Technologies, Scottish Land and Estates, Scottish Natural Heritage, Scottish Qualifications Authority, Scottish Salmon Company, Scottish Salmon Producers' Organisation and SRUC. Lantra Scotland is supported by the Scottish Government.
"Thanks also to the independent judging panel comprising: Ray Jones (Chair), Former Chairman of Scotland Food & Drink; Lisa Connell of The Scottish Salmon Company; Rebecca Dawes of Jane Craigie Marketing; Erika Hay, Journalist and Consultant; Keith Paterson of Forestry Commission Scotland, and Keith Redpath of Redpath Farms."
To find out more about the Land-based and Aquaculture Learner of the Year Awards, visit www.lantra.co.uk/scotland/land-based-and-aquaculture-learner-year call 01738 310164 or email scotland@lantra.co.uk.
---
LIST OF QUALIFIED EQUIDO INSTRUCTORS
For a full list of Equido Instructors please visit our About Equido Page.
New Course Dates for Levels One, Two, Three and Four – Internship positions available.
There will be three intakes in 2019 for Levels One, Two, Three and four with an additional three Internship positions available.  For details please click on the About tab at the top of the page.
---
EQUIDO CHARITY SCIO
HELP OUR THERAPY HORSES HELP OTHERS
Please give to this worthwhile cause, allow us to continue the fabulous work these horses are doing. We now have a Just Giving Page where donations towards our charity can be made.   These rescue horses are giving back tenfold to traumatized children and adults. Please spare just one pound.
  Our rescue and rehabilitation horses are giving back to people who are in need of some fun and relaxation. We work closely with serving and ex-servicemen and women who have suffered trauma either physical or mental.  We work with groups that deal with social exclusion.  If you think we could help you or a charity you support then please get in touch with us and we will be happy to help.
To read Raven's story please go to News/Events page.
---
EQUIDO EQUINE THERAPY COURSES
DO YOU USE OR WANT TO USE HORSES IN YOUR WORK AS A THERAPIST, TEACHER OR COACH?  WOULD YOU LIKE TO SHARE YOUR LOVE OR HORSES WITH OTHERS AND HELP PEOPLE DEVELOP AT THE SAME TIME?  CLICK HERE FOR MORE DETAILS.